Statue of Liberty Webcams Give Exclusive Views for 125th Anniversary
NEW YORK – The Statue of Liberty turns 125-years-old Friday and will enter the digital-era with a series of webcams placed in the crown that will let Internet users across the world look at the statue, New York Harbor and the grounds of Liberty Island.
The webcams will give the masses a view that has been unavailable for nearly 100 years, according to Stephen A. Briganti, the president of the Statue of Liberty-Ellis Island Foundation Inc.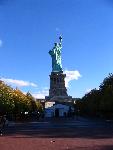 "The statue is the most famous symbol in the world," Briganti, according to the Associated Press. "Most of the people in the world have seen it, but they have not seen it like this. It will be a visit that so many people, including New Yorkers, have never taken before."
The cameras, donated by EarthCam Inc. and the National Park Service, will begin operating around the clock Friday.
The interior of the statue will close for up to a year to visitors the following day for renovations, according to the National Parks Service. The exterior grounds, which attract the bulk of visitors, will remain open during the upgrades.
The five cameras placed in the statues crown will offer viewers a glimpse of the site and the statue's surroundings from the comfort of home or anywhere with an Internet connection.